RISCO Smart Home Automation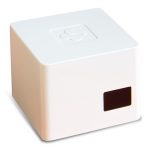 The RISCO Smart Home Gateway lets you connect an array of wireless smart devices that will provide you with the capability to control various household appliances seamlessly through your smartphone from anywhere using the same iRISCO app that securely controls your professionally installed RISCO intruder alarm system.
Home automation has been around since 1975 when the first X10 devices were developed, which were a relatively cheap and simple way to remotely control items connected into your electric plug sockets. At the other end of the spectrum are the hi-tech, high-end, professional control systems such as Crestron and Savant whose systems manage your entire home from a single portal, but routinely cost six figure sums by the time they are installed. Especially as you need a small apartment sized room to house all the cabling, servers and network switches.
The latest introduction to market and the next level up from X10 is Cloud based app connectivity and Z-Wave wireless technology. No one can escape the current barrage of adverts by certain companies advertising their app based central heating controllers, some of whom are also starting to offer a basic level of home automation such as smart plugs, with a further expansion including some simple security add-ons such as door contacts, movement detectors and cameras.
As a security company we believe, within reason, that any enhancement to your security is better than none. However, it needs to be understood that these DIY add-ons do not form part of any insurance approved regulated system as they are not compliant with any British or European security Standards.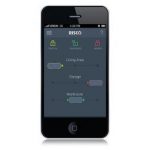 Adding the RISCO Smart Home Gateway to your LightSYS2™ or Agility3™ intruder alarm system allows us to offer you a professionally managed Home Automation system using the same iRISCO app that you may already be familiar with. The RISCO Home Gateway connects to the highly secure RISCO Cloud via your router and is compatible with a selection of Z-Wave devices. RISCO currently offer the following compatible devices:
This unit is a plug-in switch that is used to control an electric device that is plugged into to it (up to a load of 3000W). Examples of use would be switching on a light remotely to give the illusion that someone is home, or turning on or off a radio, or indeed any device that can be switched on and off.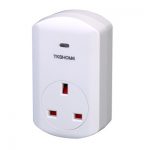 A similar looking device, this unit is a dimmer plug that is plugged in to a regular 230V electric socket. With a lamp plugged into it, the unit can dim the light to your remote command. It can work with loads up to 300W but only with incandescent lamps and high voltage halogens (not low voltage halogens, LED or compact fluorescent lights).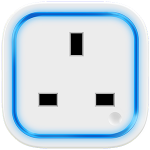 This SMART Plug plugs into a regular 230V electric socket. Any device plugged into it can be turned on and off as with the previous two models. However, in addition it monitors the energy passing through it (with a visual LED display) and, using its inbuilt surge and over-current protector it will turn off automatically in case of hazard. It also has a convenient USB port so that you can charge a phone or power a tablet.
This Universal Relay switch unit is designed to fit in the pattress box behind your light switch. The cables to the light switch are rewired into the relay after which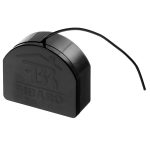 operation of the switch is controlled by the relay (max load of 2500W). The relay unit has a short antenna that also is housed within the pattress. This provides the connection to the RISCO Gateway and you can then control your lights via the iRISCO app.
As with the Universal Relay this device does the same but with the additional feature of a dimmer capability (max load of 250W). Note that both Universal Relay devices require a pattress box with a depth of 50mm in order to accommodate the device.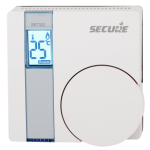 This battery-operated thermostat is designed to be a direct replacement of your existing 2-wire unit. It has an integrated relay that includes time-proportional integral software (TPI) and connects wirelessly to the RISCO Gateway. TPI optimises boiler firing to help maintain the set temperature without "overshooting".
This digital timer is a simple push-button switch that allows you to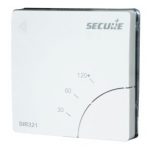 activate a connected device for 30, 60 or 120 minute intervals. It is best used for heating appliances such as panel heaters, towel rails and oil filled heaters. When connected to the RISCO Gateway you can also set the amount of time by specific minutes and also obviously turn it off at will.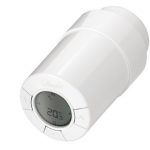 This unique battery-powered electronic thermostat retrofits to your individual central heating radiator, replacing the existing thermostat. The device wirelessly connects to the RISCO Gateway allowing you to control the temperatures in any room that has a radiator with this device fitted. The unit has an inbuilt scheduler that allows you to set up to 9 different set-points for each day of a 7 day week. The simple 3-button physical interface allows you to override the set-points when not using the iRISCO app.
All powered Z-wave devices can act as repeater units. A repeater acts as a relay point, so if a device is too far from the Gateway it can talk to a repeater that is closer, and the repeater relays the messages back and forth to the Gateway. Multiple smart devices therefore can create a robust mesh network.
Having the facility to control your intruder alarm with a high quality secure app is a convenient solution with key benefits. Adding RISCO VUpoint Live Video Verification cameras, with seamless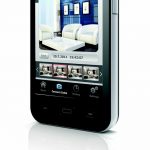 integration to the iRISCO app, provides additional and valuable peace of mind. With the inclusion of the RISCO Smart Home Gateway and Z-Wave connected devices, all controlled from the same iRISCO app, you have the technology and ability to control what you want and how you want, with a fully scalable system.
Contact us at Security First (UK) to find out more details about how the RISCO Smart Home Gateway and Security systems can benefit you.